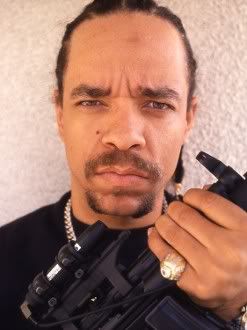 Photo by Steve Rappaport
In a recent interview with the UK's Channel 4 news, hip hop artist/actor/reality show star Ice-T weighed-in on gun control, saying,
"(The right to bare arms is) legal in the United States.  It's part of our Constitution.  You know, the right to bear arms is because that's the last form of defense against tyranny, not to hunt.  It's to protect yourself from the police."
 Naturally, this raised the ire of Rush Limbaugh who, in return chortled,
"There's Ice-T saying the only reason we got guns in America is "to protect yourself from the police."  (laughs)  Well, we're told, "Hey, it's cultural. We gotta understand it from the cultural standpoint. That's where Mr. T's coming from." (interruption) Yeah, he did. He knew the word "tyranny."  He knew the word "tyranny," and he knows that tyranny comes from government representatives.  Double impressive. Tyranny doesn't come from media figures, or actors. "
 To which Ice-T responded via Twitter,
"Rush Limbaugh is a racist piece of shit."
An elegant debate, to be sure. But at the end of the day, Limbaugh is attacking/talking down Ice-T for making the same fundamental argument that many Second Amendment defenders make when the subject of gun control (rarely) gets brought up in the national dialogue—we have to be able to defend ourselves against our government, which means we need automatic weapons to level the playing field and keep them in check. These are the kind of guys, guys generally with more than a little ego and an inflated hero complex, that you don't want to wear a hoodie around. But if the government does decide to come after us (which has about as much chance of happening as Paris Hilton becoming a Nobel Prize Winner) who would come after us specifically? I'm guessing the police or the armed forces? It most certainly wouldn't be the Congressional Pages. Picture that for a minute, do you really think the heroes America (and this includes Limbaugh) welcome home would turn their guns on us en masse? And if it were the police department who turned on the people, by that argument you'd be within your constitutional rights to have your 12 gauge sawed-off,your headlights turned off, bust some shots off and dust some cops off. And Dan Quayle and the ghost of Charlton Heston would owe Ice-T an apology.
Up until this week, the only Ice-T Limbaugh cared about was his 'Two if by Tea' brand of iced teas, a brand which donates profits to Republican causes and features a caricature of Limbaugh on horseback in colonial garb a'la Paul Revere. In the brand's mission statement on their website, Limbaugh (or Rush Revere, as he refers to himself— a sign of more than a little ego and inflated hero complex, perhaps?) writes,
"The Liberals are coming. The Liberals are coming. My good friend Paul Revere laid out the blueprint of how to deal with this. Sound the alarm! One if by land, Two If By Tea!"
So what do we learn here? Well, Rush Limbaugh was friends with Paul Revere, so he's way older than we thought. And we already knew from Sarah Palin that The Midnight Ride of Paul Revere was to ring the bells to let the British know they weren't gonna be takin' our guns. And now it's the Liberals who want to take your guns! It's all coming together! Rush, via his line of iced teas is warning us that the Liberals are the ones who are going to come after you once you're disarmed and make you…make you…buy a hybrid!
The only thing more depressing than Ice-T and Rush Limbaugh basically arguing the same position (though for different reasons), is that in the wake of the Aurora, Colorado tragedy, this is the ONLY debate about gun control happening in the United States. It took the President nearly a week to say,
"A lot of gun owners would agree that AK-47s belong in the hands of soldiers, not in the hands of criminals — that they belong on the battlefield of war, not on the streets of our cities…I believe the majority of gun owners would agree that we should do everything possible to prevent criminals and fugitives from purchasing weapons; that we should check someone's criminal record before they can check out a gun seller; that a mentally unbalanced individual should not be able to get his hands on a gun so easily."
Well, no shit. It makes sense and I agree with it, but it's a far, far cry from the hard questions we as a country need to be asking.
blog comments powered by

Disqus